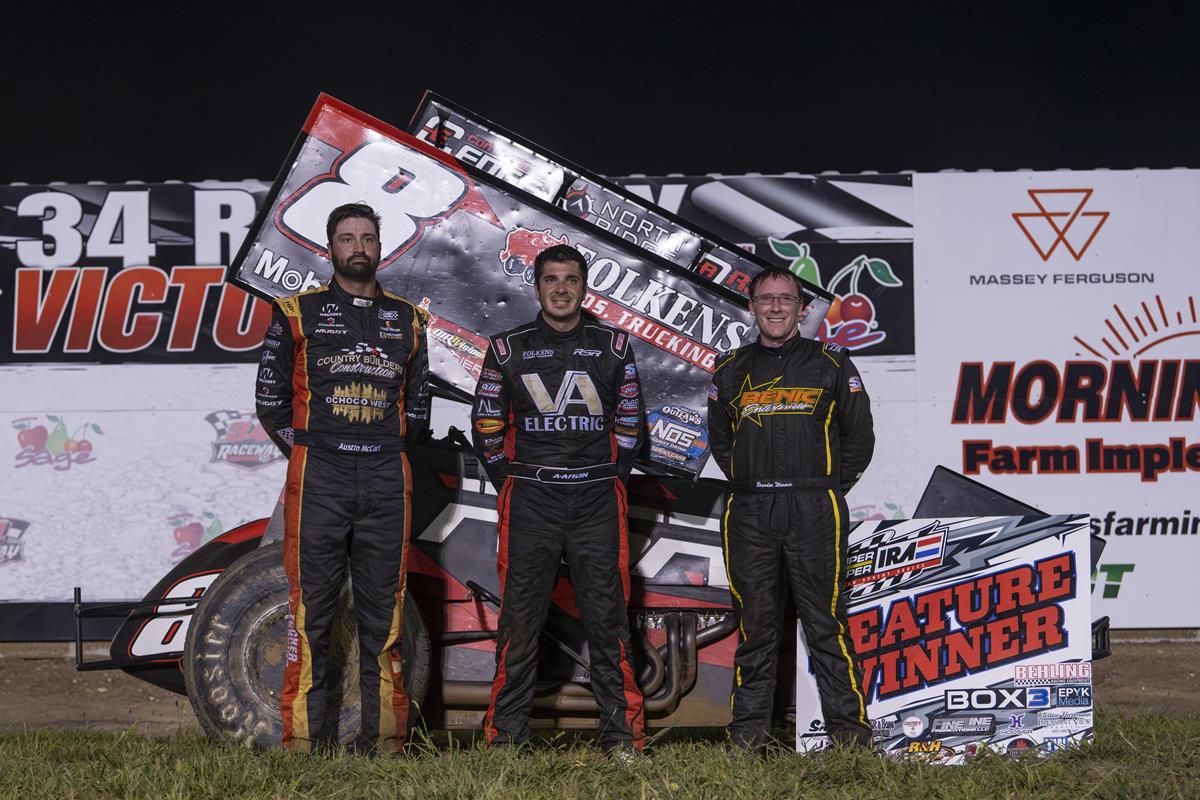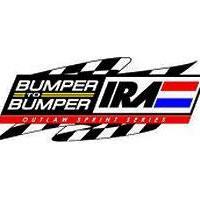 8/26/2023
IRA Interstate Racing Association
---
REUTZEL RULES AT 34 RACEWAY
REUTZEL RULES AT 34 RACEWAY
Photos by Emily Schwanke
32 cars checked into 34 Raceway, and 24 cars punched their dance card for our Morning Sun Implement feature event. McCarl and Reutzel would lead the field to the drop of the green. McCarl would slide Reutzel in turns one and two, but Reutzel would lead lap one.
Danny Schlafer would make moves to second spot against the 88 of McCarl as the field would take another lap down. With five laps in the books, it was Reutzel, Schlafer, Wimmer, McCarl, and Crouch.
Reutzel would take to the cushion to continue to make some distance between himself and the rest of the field. Schlafer would drop back to fourth as McCarl and Wimmer would pass him on the backstretch. Reutzel would maneuver heavy lap traffic as we were 15 down, 15 to go.
McCarl would stalk the prey of the 8 of Reutzel for the lead as he would close the gap of almost 2 seconds to now only a .2 seconds of a lead with 12 laps to go. McCarl would be stuck behind a lap car as Wimmer made an appearance by him once more. Wimmer would take to the outside and try to make some moves on the cushion over the 88, but it wouldn't stick this circuit around.
McCarl would take to the bottom of the raceway to try to reel in race-long leader Reutzel as we would have 5 laps remaining. Wimmer would take to the cushion with a run off the cushion and would make a pass on the 88 momentarily as the yellow would be thrown for the 46JR of Joel Meyers Jr for a flat left rear tire.
The battle in the front of the field was one to watch. The 6 of Brandon Wimmer was one of the only competitors in the front to throw caution to the wind and tackle the tricky cushion of 34 Raceway.
When we returned to green, Reutzel would lead the way followed by Wimmer, McCarl, Crouch, and Hampton. Green-White-Checkered finish would decide our winner for night one of our doubleheader weekend. Reutzel would have a great start, but Wimmer would throw caution to the wind once more in a final attempt on the cushion, but would be .4 seconds short. Reutzel would take home the win, Wimmer second, and Austin McCarl third.
The IRA Sprints are back in action Saturday August 26th for the first time at Federated Auto Parts I-55 Raceway in Pevely, MO. If you can't make it, watch live on FloRacing.
A Feature 30 Laps | 00:21:31.324
8-Aaron Reutzel[2]; 2. 6-Brandon Wimmer[6]; 3. 88-Austin McCarl[1]; 4. 35-Zach Hampton[7]; 5. 1-Brenham Crouch[5]; 6. 50-Paul Nienhiser[13]; 7. 65-Jordan Goldesberry[8]; 8. 96-Jake Blackhurst[4]; 9. 25T-Travis Arenz[16]; 10. 22-Riley Goodno[10]; 11. 25-Danny Schlafer[3]; 12. 7A-Will Armitage[12]; 13. 23-Russel Borland[20]; 14. 2W-Scott Neitzel[11]; 15. 49-Josh Schneiderman[21]; 16. 3N-Jake Neuman[24]; 17. 7-Tyler Lee[19]; 18. 9K-Kyle Schuett[23]; 19. U2-Jack Vanderboom[22]; 20. 3P-Sawyer Phillips[9]; 21. 9-Tyler Duff[17]; 22. 68-Dave Uttech[14]; 23. 16TH-Kevin Newton[15]; 24. (DNF) 46JR-Joel Myers Jr[18]
B Feature 1 10 Laps | 00:06:16.888
49-Josh Schneiderman[1]; 2. U2-Jack Vanderboom[6]; 3. 9K-Kyle Schuett[2]; 4. 3N-Jake Neuman[9]; 5. 19CW-Ion Stear[3]; 6. 15-Cole Mincer[7]; 7. 26-Tyler Tischendorf[4]; 8. 4K-Kris Spitz[5]; 9. 24-Scott Conger[8]; 10. 31-McCain Richards[10]; 11. (DNS) 39V-William Huck; 12. (DNS) 87A-Austin Hartmann
Dash 1 4 Laps | 00:02:56.674
88-Austin McCarl[2]; 2. 25-Danny Schlafer[4]; 3. 1-Brenham Crouch[1]; 4. 35-Zach Hampton[5]; 5. 3P-Sawyer Phillips[3]
Dash 2 4 Laps | 00:03:23.557
8-Aaron Reutzel[3]; 2. 96-Jake Blackhurst[1]; 3. 6-Brandon Wimmer[2]; 4. 65-Jordan Goldesberry[5]; 5. 22-Riley Goodno[4]
Heat 1 8 Laps | 00:05:00.583
25-Danny Schlafer[2]; 2. 2W-Scott Neitzel[1]; 3. 1-Brenham Crouch[4]; 4. 3P-Sawyer Phillips[3]; 5. 9-Tyler Duff[5]; 6. 4K-Kris Spitz[8]; 7. 15-Cole Mincer[7]; 8. (DNS) 49-Josh Schneiderman
Heat 2 8 Laps | 00:04:22.910
35-Zach Hampton[2]; 2. 50-Paul Nienhiser[1]; 3. 88-Austin McCarl[4]; 4. 16TH-Kevin Newton[5]; 5. 7-Tyler Lee[6]; 6. 19CW-Ion Stear[7]; 7. 39V-William Huck[8]; 8. (DNF) 87A-Austin Hartmann[3]
Heat 3 8 Laps | 00:02:28.329
22-Riley Goodno[1]; 2. 8-Aaron Reutzel[4]; 3. 68-Dave Uttech[2]; 4. 65-Jordan Goldesberry[3]; 5. 46JR-Joel Myers Jr[6]; 6. 3N-Jake Neuman[5]; 7. U2-Jack Vanderboom[7]; 8. 24-Scott Conger[8]
Heat 4 8 Laps | 00:04:39.515
96-Jake Blackhurst[2]; 2. 6-Brandon Wimmer[4]; 3. 7A-Will Armitage[3]; 4. 25T-Travis Arenz[1]; 5. 23-Russel Borland[7]; 6. 9K-Kyle Schuett[5]; 7. 26-Tyler Tischendorf[6]; 8. 31-McCain Richards[8]
Qualifying 1 | 00:00:27.259
1-Brenham Crouch, 00:12.961[11]; 2. 88-Austin McCarl, 00:13.014[5]; 3. 3P-Sawyer Phillips, 00:13.068[6]; 4. 87A-Austin Hartmann, 00:13.183[15]; 5. 25-Danny Schlafer, 00:13.223[4]; 6. 35-Zach Hampton, 00:13.268[3]; 7. 2W-Scott Neitzel, 00:13.271[14]; 8. 50-Paul Nienhiser, 00:13.310[10]; 9. 9-Tyler Duff, 00:13.398[2]; 10. 16TH-Kevin Newton, 00:13.580[9]; 11. 49-Josh Schneiderman, 00:13.595[1]; 12. 7-Tyler Lee, 00:13.625[13]; 13. 15-Cole Mincer, 00:13.781[7]; 14. 19CW-Ion Stear, 00:13.852[12]; 15. 4K-Kris Spitz, 00:14.063[16]; 16. 39V-William Huck, 00:16.238[8]
Qualifying 2 | 00:00:28.565
8-Aaron Reutzel, 00:12.969[7]; 2. 6-Brandon Wimmer, 00:12.997[6]; 3. 65-Jordan Goldesberry, 00:13.226[11]; 4. 7A-Will Armitage, 00:13.310[5]; 5. 68-Dave Uttech, 00:13.346[2]; 6. 96-Jake Blackhurst, 00:13.457[8]; 7. 22-Riley Goodno, 00:13.480[14]; 8. 25T-Travis Arenz, 00:13.544[4]; 9. 3N-Jake Neuman, 00:13.648[3]; 10. 9K-Kyle Schuett, 00:13.676[15]; 11. 46JR-Joel Myers Jr, 00:13.735[9]; 12. 26-Tyler Tischendorf, 00:13.770[10]; 13. U2-Jack Vanderboom, 00:13.794[12]; 14. 23-Russel Borland, 00:13.801[13]; 15. 24-Scott Conger, 00:14.164[1]; 16. 31-McCain Richards[16]
Hot Laps | 00:15:40.597
8-Aaron Reutzel[23]; 2. 6-Brandon Wimmer[22]; 3. 96-Jake Blackhurst[24]; 4. 65-Jordan Goldesberry[27]; 5. 7A-Will Armitage[21]; 6. 68-Dave Uttech[18]; 7. U2-Jack Vanderboom[28]; 8. 50-Paul Nienhiser[10]; 9. 1-Brenham Crouch[11]; 10. 23-Russel Borland[29]; 11. 87A-Austin Hartmann[15]; 12. 46JR-Joel Myers Jr[25]; 13. 16TH-Kevin Newton[9]; 14. 3N-Jake Neuman[19]; 15. 22-Riley Goodno[30]; 16. 7-Tyler Lee[13]; 17. 25T-Travis Arenz[20]; 18. 25-Danny Schlafer[4]; 19. 2W-Scott Neitzel[14]; 20. 9K-Kyle Schuett[31]; 21. 19CW-Ion Stear[12]; 22. 88-Austin McCarl[5]; 23. 4K-Kris Spitz[16]; 24. 3P-Sawyer Phillips[6]; 25. 24-Scott Conger[17]; 26. 26-Tyler Tischendorf[26]; 27. 49-Josh Schneiderman[1]; 28. 35-Zach Hampton[3]; 29. 15-Cole Mincer[7]; 30. 31-McCain Richards[32]; 31. 39V-William Huck[8]; 32. 9-Tyler Duff[2]
---
Article Credit: Madeline "Chatty Madi" Schultz
Submitted By: Gracie Cleveland
Article Media
Back to News